<![if !vml]>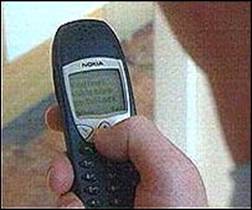 <![endif]>
Did You Know That Your cell phone probably
has an Email address?
For me this is a great thing id rather be typing on a key board than fingering little buttons on a cell phone. It sure is a lot easier to type txt messages on your computer than on your phone. Of coarse you can't always get to a computer whenever you need to send a text message. And I'm sure a lot of people have gotten so fast at text messaging on their phone It doesn't even make a difference. Anyway…My Cell Phone email is 4042904171@vzwpix.com
To find out what your's is, send an email to your self from your cell phone. If you don't have an e-mail you can send it to me at Ravisri@bellsouth.net and I
Once you find out please tell me what it is in the Guestbook and be prepared to get a lot of text messages from me.